Ed's on vacation in Florida for a week...and didn't take a laptop! Should something major break I'm screwed :-)
Jon has a 3 part post about the in-house CMS they developed ... and their unique approach to the kiosk units. Hey Jon, more kiosk pictures dude!
Got to voice chat with Jon late Tuesday night about monitoring software. More on that in a future post. Thanks for the call Jon and look forward to more dialogue in the future.
The Media and Technology Coordinator for North Madison Christian Church has just started a blog. He's listed some of the goals for 2006...including the infamous search for a CMS. Welcome to the blog world!
Let's suppose I did a podcast on Church IT ... Ed and I could yak about IT stuff ... maybe get Andy to yak about CMS stuff ... maybe do some yaking with other IT folks at other churches ... would you listen???
Guy Kawasaki is a posting animal! How can one person have sooo much great stuff to post daily. Check out his last post on The Art of Schmoozing ... good stuff. I highly recommend adding Guy to your blogroll.
I've let all my IT magazine subscriptions run out ... except for WinITPro. I get most of my info via RSS and all the mags just sat around collecting dust.
My car just turned over 90k miles. To celebrate I changed the oil filter...oil is still good for another 3k. Thanks to excellent German engineering the filter is ultra accessable and uber easy to change. Remove one bolt, lift off the filter cover, remove filter, reverse.
I have to wonder if other car manufactures purposefully place oil filters in hard to reach locations so most people would rather pay than change it themselves.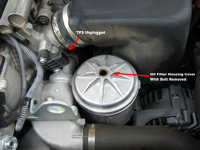 I got the Tech Arts guys new Tricaster on the network today. No this isn't the "what do you think it is" item :-) We have an address range set aside for AV gear so the Tricaster is now nice and static.
Tech Arts guys were wanting a KVM that had dual monitor outputs. I'd never seen one so told them if they do exist they're prob expensive. Then I hit google and found they do exist and are not very expensive...kewl!
Our middle school ministry got 2 XBOX360's donated ... I was all I could do to keep from playing with it Tuesday night as they were setting up.